About a month ago the girls in our family took a little trip, and had ourselves a little adventure. I mentioned
before
that my mom-in-law, my daughter, and myself were going to be driving 4+ hours to visit some new friends and a fantastic quilt store we had been told about. We were excited for some girl time away from the normal routine!
What fun it was to meet my Facebook friend (from BC) and her Facebook friend (from Wales) who were travelling together across Canada! We had a lot of fun with them for the few hours we had together. We enjoyed a lovely lunch together at the Ptarmigan Inn in downtown Banff, and then headed back east to Canmore for the headline event - visiting The Sugar Pine Co. Quilt store!
WOW! This quilt store was SO awesome! The setting was lovely, nestled in downtown Canmore with gorgeous views all the way around, and the store itself was fantastic. 2-stories of fabric and quilting notions and patterns and everything a quilter ever needs.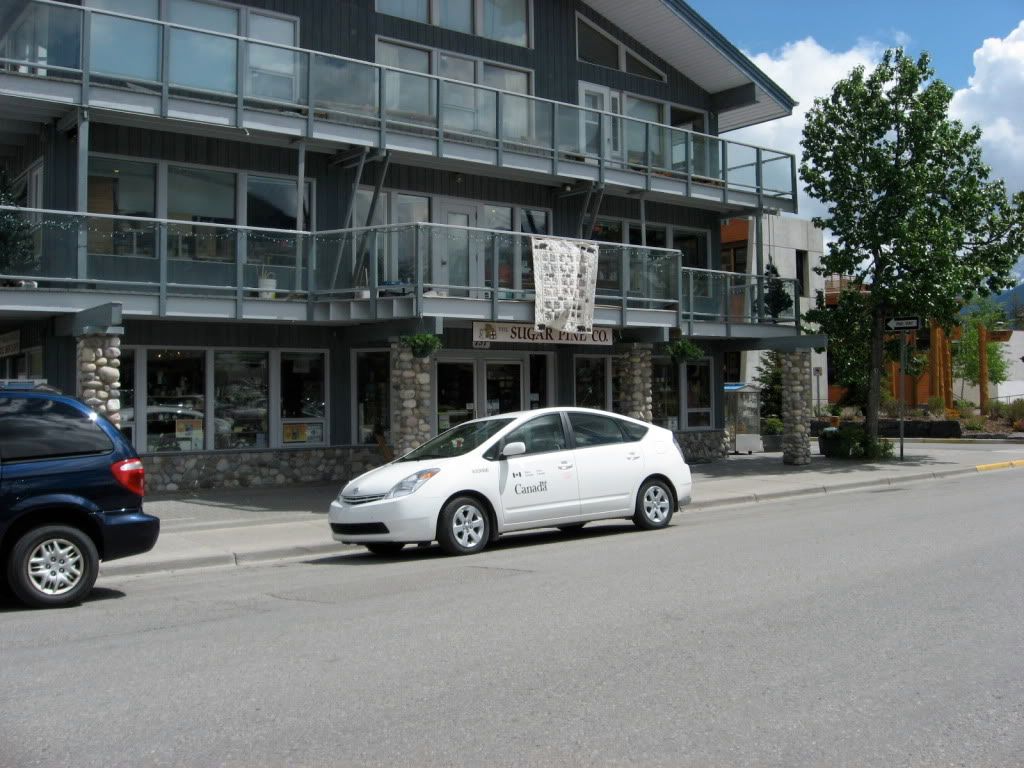 There are over 300 finished quilts on display in the store, with patterns available for most of them and MANY MANY more. The store was VERY well laid out and organized so that we could easily find what we were looking for. The trick, of course, was deciding what we were looking for! It was almost overwhelming!
There were easily hundreds of bolts of fabric, and thousands of fat quarters. They had baskets and buckets and shelves with fat quarters all around, including a section with $0.99 Fat Eights and $1.99 Fat Quarters (what a deal!). What I liked best about their fat quarter selection was that many of them were actually in little cubbies between the top & bottom shelves of fabric on bolts. That means that there were many many many fat quarters that were esentially arranged by the color wheel, so I could go to where the purple fabric bolts were and pick out a purple fat quarter in the cubby underneath the shelf.
The layout of the upstairs where all the fabric was kind of resembled a lowercase letter "h", and even with so much stuff in there it was easy to get around and explore! One side was seasonal fabrics, one side was basically a color wheel with the fabrics arranged by color, one side was all bright novelty fabrics, and there were patterns and notions of all sorts in the center and one corner.
They had many applique patterns for beautiful landscapes and other fun stuff! There were many patterns of the gorgeous Rocky Mountain vistas so popular in the Banff and Canmore area. Racks and racks of patterns - I could have gotten into a LOT of trouble in this store! But instead, I focused on helping my daughter find a couple of little projects.
We didn't have much time to explore the downstairs, but what we did see was so much fun. Ribbons, piping, tulle, buttons and other embellishments were everywhere. There were also gifts for quilters, thread of all sorts, including embroidery thread in every shade of the rainbow, and fun local fare like the maple leaf pins we found by the register.
Because we had found their bargain corner and bought much of our fabric on this occasion from that section, we got out of the store for under $100. I found their fabric of good quality and very reasonably priced, even for those not on special. They have so many one-of-a-kind original patterns there, too, that are of good value. We also discovered that many of their fabrics and patterns can be purchased through the
Sugar Pine online store
, and they ship all over the place, so we'll likely order some of their patterns that way in the future.
It was well worth our time, driving 8+ hours round trip, to go to this store, and to meet some new friends. I know that the next time I go through Canmore I will stop at The Sugar Pine again. It was just too much fun to pass up! I highly recommend this quilt store to any who are in the area, or who happen to be passing through on a Canadian Rocky Mountain adventure! It's worth a look for sure!