A few summers ago I made a quilt for my sister. Actually, the project began nearly 2 BEFORE that, and a good friend of mine helped.
We were taking a quilting class together, just for fun. It was a once a month class and every month we learned a new technique and pieced 1 block. The fabric and the patterns were provided for us (i.e., we didn't get to pick our own fabric). I got the set called "Coral" and hers was "Purple". My friend didn't like her fabric option at all, the longer she worked with it, and she was just going to give the blocks to the local quilter's group. I asked her if I could have them (she only had 10 of the 12 blocks as she hadn't finished the last 2), and she said I could! I was so excited because I knew just who I was going to give it to. My sister LOVES purple! So I had to finish the squares and complete the quilt top with the sashing, then sandwich and quilt the whole thing.
The Completed Quilt - "Purple Pizzaz"
This is a sampler quilt, which means that each square is different.
Top row: Stripped Pinwheels, Folded Flowers, Paper Pieced Flowers
2nd row: Flower Basket, Dove in the Middle, Celtic Square
3rd row: Mock Trapunto, Stack-n-Whack, 2" Square Watercolor
Bottom row: Mock Chenille, Log Cabin, Applique Flowers
What is difficult to see is how gorgeous the color is - it's like ROYAL purple! The quilt fabrics have purples, some pinks, greens, some blues, and some gold. The sashing fabric I found has a silver fleck in it, so it is shiny like the gold in the blocks.
This block is one of the prettiest because all of the edges are stitched with gold thread, and it's a Celtic design that is all interconnected. Pretty fun, too!
This block is also highlighted with the gold thread in the quilting. The flower-ish looking design in the block is actually puffy. It's called 'mock trapunto' because trapunto is a technique where you stuff batting or poly-fill into the back of a project to make it really puffy, and this one is done slightly differently, so it's not quite as puffy.
This is the center of the quilt, and I call this block "Dove in the Middle". It's actually a Drunkard's Path pattern. On my "coral" quilt, the way it's put together looks more like Bowties and Butterflies. This one really is cool, and looks just like a dove from a distance.
One of the last blocks I made, this one has Folded Flowers - kind of fabric origami. The flowers are 3-Dimensional and open up.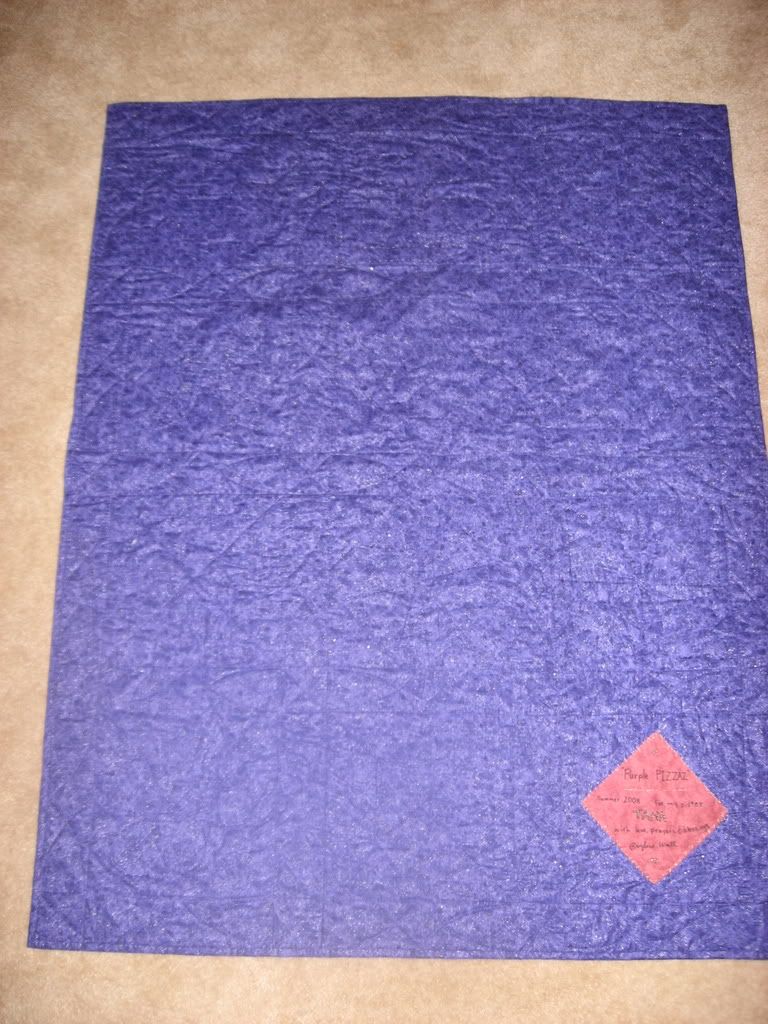 This is the back of the quilt with the label. I did special stitching around each edge of the label with gold thread. (No close up of it, though, 'cuz it has our names on it...)
It was a fun project, and it's not too big. Kind of a lap-sized quilt. She really liked it. It was just the right size for her, she said, to snuggle under while watching TV or something, or to put over the top of her other blankets on her bed for a little extra warmth.
I'll post pics of my 'coral' quilt next!